Javelins are a light spear that is thrown by the user to kill an enemy.
Javelins had been used since ancient times in our world, paving the way as one of the first "ranged" weapons used in war.
Javelins, despite the invention of the bow, crossbow and ballistae, remained in use until the Medieval Ages.
Earlier in history, the javelin was used by the Romans, who used the same battle formation as the Toscans, both stabbing and throwing their 
pilum
with devastating effects.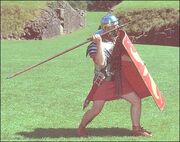 Javelins were slightly shorter than true spears, and lighter, giving the user the ability to throw them. However, the javelin was still heavy enough to drag a man's arm down if he caught the javelin on his shield.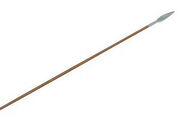 Effectiveness
Edit
Because of their weight, javelins could only be thrown so far, and were outranged by bows. However, because they are much larger and heavier, a javelin could inflcit much more fatal wounds at short range.
The heavy, sharpened point could break through shields and armor with ease, and if it did not kill the target, it would certainly slow it down.
Javelins were easy to construct, but it did take some time to train someone to use it, however, if used in mass like the Toscans, accuracy does not matter as much as the ability to throw the javelin. 
Ad blocker interference detected!
Wikia is a free-to-use site that makes money from advertising. We have a modified experience for viewers using ad blockers

Wikia is not accessible if you've made further modifications. Remove the custom ad blocker rule(s) and the page will load as expected.