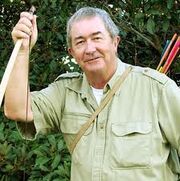 John Flanagan
is the author of the
Ranger's Apprentice
series. The series originally comprised twenty short stories, which John wrote to encourage his twelve-year-old son,
Michael
Flanagan, to enjoy reading.
The series has come a long way since then. Now sold in fourteen countries, the series has appeared on the New York Times Bestseller List and is regularly shortlisted in children's book awards in Australia and overseas.
Biography
Edit
John Flanagan grew up in Clovelly, Sydney. He worked in advertising for many years (including working for the formidable Julius Sumner Miller on a series of TV commercials) before moving into TV, where he worked as head writer on Hey Dad! for all 291 episodes.
John lives with his wife, Leonie, in the Sydney beachside suburb of Manly. He is currently writing further titles in the for his new series of books: The Brotherband Chronicles.
Bibliography
Edit
The Ranger's Apprentice Series
Edit
Ranger's Apprentice: The Early Years
Edit
The Brotherband Chronicles
Edit
Jesse Parker Mystery
Edit
Storm Peaks (2009)
Avalanche Pass (2012)
External Links
Edit
Ad blocker interference detected!
Wikia is a free-to-use site that makes money from advertising. We have a modified experience for viewers using ad blockers

Wikia is not accessible if you've made further modifications. Remove the custom ad blocker rule(s) and the page will load as expected.