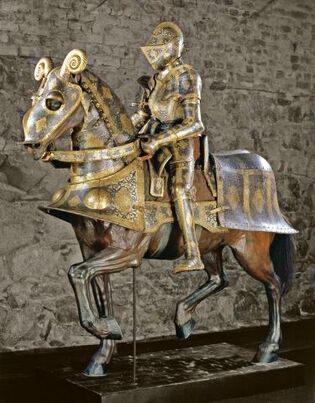 Plate armor the primary armor of the knights of Araluen and Gallica.
Description
Edit
Plate armor consists of many plates of tempered steel, including a chestplate, greaves, bracers, a helmet and boot covers. It provides good defense against almost all attacks, including cutting, slashing, stabbing, and blunt force.
Plate armor is used primarily by the Araluan knights, both mounted and on foot, but is also used by Gallican knights and presumably others.
Plate armor protects the user's entire body, from head to toe, and is very difficult to penetrate. The only weak points are at the joints and in between plates. Plate armor can also cover the fingers and joints through a technique called articulation, where many plates, each the same shape, are put together into a flexible tube-like construction. Plate armor can also be used on horses to protect a knight's mount.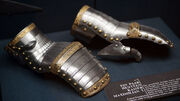 Ad blocker interference detected!
Wikia is a free-to-use site that makes money from advertising. We have a modified experience for viewers using ad blockers

Wikia is not accessible if you've made further modifications. Remove the custom ad blocker rule(s) and the page will load as expected.