The
Saxe
 is a large Skandian knife and tool. Originally called the "sea axe" by the
Skandians
, over the years the words were put together to form term saxe. The
Ranger Saxe Knife
is made in the same style but using
superior steel
.
"Its both weapon and tool - a sea ax, originally. But over the years the words sort of slid together to become saxe." Halt - Rangers Apprentice Book One: The Ruins of Gorlan
(Pg. 76 U.S. Paperback 1st edition, 2005)
~ Through the many parallels between the Ranger's Apprentice world and ours, the Skandian Saxe is most related to the Viking Seax. There is a difference between the Skandian Saxe and the Rangers Saxe. It has been found that the Vikings adapted the Seax for their needs and gave it a "broken-back" style, which closely resembles blade "e". If the parallel exists in the Ranger's Apprentice books then the Skandian Saxe should closely resemble blade "e" also. On the right it what a Viking Seax looks like.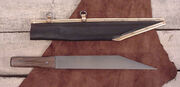 ~ AEM